The Ultimate Web Design Trends in 2020 (Part 1)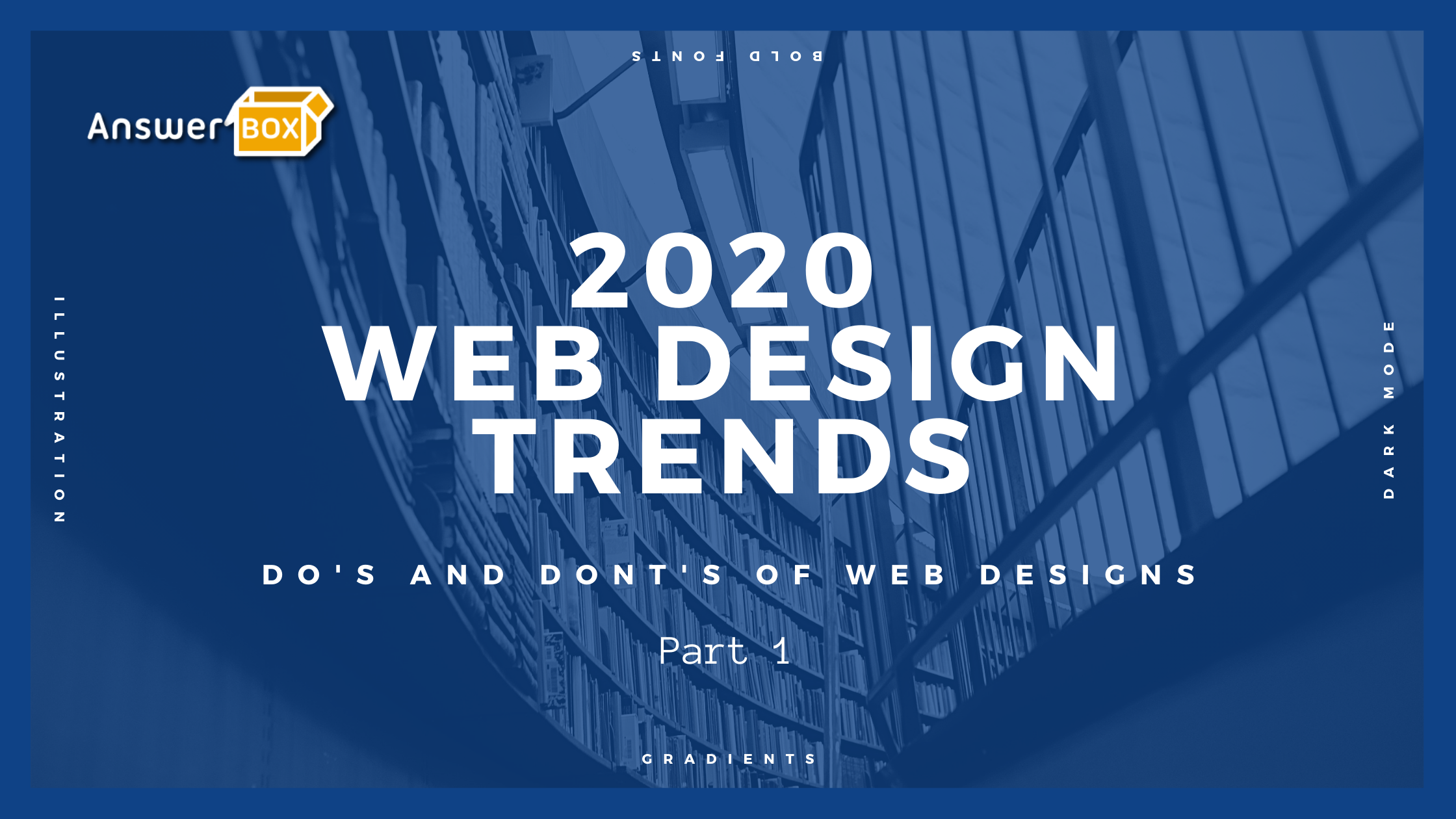 Now that half of the year 2020 is done (what a year), it is a good time to look back, and forward, for Web Design Trends that have dominated the internet and will continue to do so.
Web Design Trends of the year 2020 are a delightful mixture of highly visual effects and elements from evolving technology. Design trends are a reaction to cultural and social changes. Web Design decisions that were hot some years ago feel unnatural, old and can give the same feeling to the product it tries to sell.
Following the newest trends can "make or break" a starting company. So what to do and not to do in the remaining 2020 or early 2021? Let's dig a little deeper into that with this 2 part series of Web Designs Trends in 2020.
1. Dark Mode Web Design Trends
Dark Mode designs have dominated the web and UI designs since 2019. Top websites such as Facebook, YouTube, Instagram, Twitter, etc jumped one after another into the Dark Mode and turned the lights off.
The reason behind the popularity of this trend lies in saving battery life on devices and causing less eyestrain. Turning the website dark creates an elegant and sleek environment to showcase products or services.
2. Gradients Design Trends
There was a time when flat colors dominated the internet, but now Gradients are back, and they are stronger than ever!
In 2020 we have witnessed bold, multi-colored gradients in background, fill-ins, and illustrations. Gently floating from one vibrant color to another seems to be the new "black", and is popping up everywhere.  From vibrant gradients to subtle, pastel gradients we love them all.
Multiple color gradients give the illustration of a lot of depth, sometimes almost 3D look, and contrast that creates a cutting-edge design.
3. Illustrations Designs Trends
In a time when everything is copied from someone, a unique illustration style can make your brand stand out from the competition.  When done right, illustration can become a core of the brand and lift it up to a new height. Some brands have started to use abstract, sketch-type illustrations that feel imaginative, creative, and unforced, whit is a breeze of fresh air in a not-so-organic corporation world.
4.  Bold Fonts Web Design Trends
One other rising Web Design Trends has been using typography as a design element. Making the text fun and funky by over-sizing, spacing, adding color, and illustrations in and on the font. Also using unusual fonts and mixing them up. This design needs a good eye to make sure the overall feel of the website does not get too busy and also tie the bold heading to the body text seamlessly so that it all flows beautifully. But once done right it can be powerful and unique and it will make your website pop out from the rest.
  5. Collaboration of photos and illustration
Mixing bold illustrations and photos are a new wild design trend in 2020. It can create a really eye-catching design. Some websites use it just as a "spice" within their website and others take it in the center of the whole design. Mixing these two styles can be tricky but it will pay off.
So here are the first 5 Web Design Trends of 2020. We will continue the list with another 5 trends next week.
Leave a comment, what kind of design trend excites you the most?